Location:
Die Bibliothek Andreas Züst
Research at Bibliothek Andreas Züst
For more than a week, exactly the week before the library closed for a longer period of time, Uta Neumann and I were guests in the Alpenhof and the Bibliothek Andreas Züst. With a research proposal and a pretty solid bibliography, we entered the library and after a week of strolling through the narrow corridors of the library and hours of browsing through the rows of books, we found more leads, ideas and angles for our projects than we could ever have hoped for.
Bibliothek Andreas Züst is a fantastic place with a wonderfully rich collection of books. The collection is personal on the one hand; the collection was put together by artist and collector Andreas Züst, and on the other hand, the way of categorization makes it an accessible and compelling association Valhalla. There are threads running between different subjects and many of our impulsive ideas turned out to be very clearly related in this collection of books. After this visit, the subjects that used to have an intuitive connection appear to not only complement each other, but even seem to ask for each other.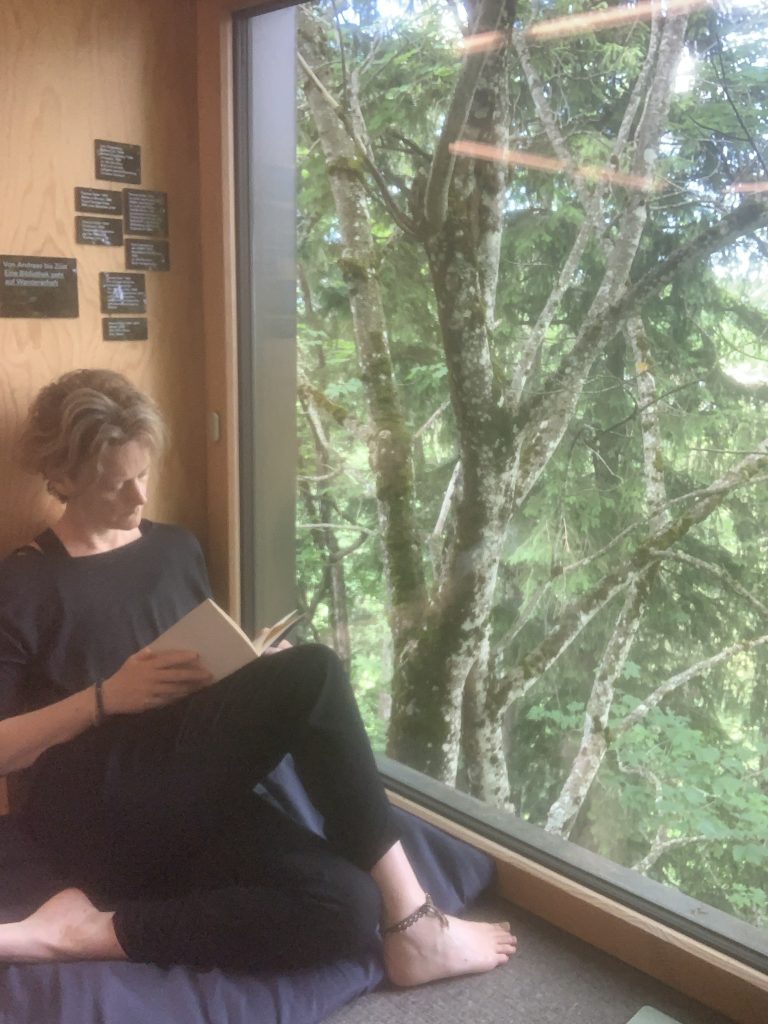 Uta Neumann
Bibliothek Andreas Züst, Juni 2022.
Barbara Collé
Bibliothek Andreas Züst, Juni 2022.
New Finds, Classics on Colour
And it really wasn't the plan, believe me ;), but I found some wonderful new books about colour here too. They almost seemed to be waiting for me. I have discovered my new colour bible for the moment there. More on that later. But the following titles were also wonderful eye openers.
We are now developing a first association of subjects into an art project during our next residency in Switzerland, Sasso Residency. And other clusters are in storage for a later moment.
We started putting together very intriguing spread exhibitions on site in the library and will continue this after the summer.
How lucky we were to be able to do this. Many thanks to all the library staff and good luck with the change of layout of the Alpenhof. Hope to see you again soon!
Piles of new literature
It was a totally rich week with, of course, a shortage of time. In addition to a lot of new literature, it has also given us the great urge to return.

Book shown:
Albert Heim, Luft Farben (1912)